WagerWeb
WagerWeb Company Details
US Accepted: Yes
Company name: Casablanca Gaming
Website: https://www.wagerweb.eu
Location: San Jose, Costa Rica
Banking Phone: 888-464-2387
Bookmaking Phone: 877-512-7095
International: 011-506-2271-5511
Support E-mail: support@wagerweb.eu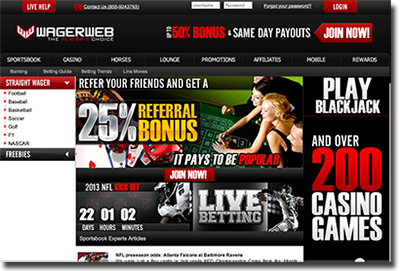 WagerWeb Company Bio
One of the comforting things about WagerWeb is the fact that it is by no means a fly-by-night operation. Longevity means a great deal in the online gaming industry because there are sites that come and go quickly, often times leaving bad reputations behind.
WagerWeb has been around since 1994. In that time there have been a handful of player disputes that sullied their reputation and left a bad taste in the mouths of a lot of players. But under new management since 2011, WagerWeb has gone to extraordinary lengths to redeem that reputation, and because of these efforts we feel they have made a dramatic turnaround.
In early 2013 Wagerweb purchased Legends.com, one of the oldest and most respected sportsbooks in the industry. Adding this book to their portfolio has gievn their reputation an additional upward bump.
Founded: 1994
Online since: 2001
Jurisdictions & License: Costa Rica
Betting Software: Action Sports International (ASI)
WagerWeb Betting Details
Deposit options: Bitcoin, Cashier's Check/Money Order, Check, EZVoucher, moneygram, Visa/Mastercard
Withdrawal options: Bitcoin, Cashier's Check/Money Order, EZVoucher, moneygram, Visa/Mastercard
Singles accepted: Yes
Minimum deposit: $50
Deposit options: Credit Card, Cashier's Check, Moneygram, Skrill, Western Union, EZVoucher
Accepted credit cards: Visa, Mastercard
Deposit fees: Visa / AmericanExpress: Free, Skrill/Moneybookers: Free, Western Union: Free over $250, varies for lower amounts, MoneyGram: Free over $250, varies for lower amounts, EZVoucher: Customer will be charged a onetime fee of $5 for opening an account. The micropayment amount is refunded back to the customer card when they do the verification.
Minimum bet: $2 Online, $25 over the phone
Maximum bet: Depends on sport
Maximum winning: None
Maximum payout:
Withdrawal options: Credit Card, Cashier's Check, Moneygram, Skrill, Western Union, EZVoucher
Withdrawal fees: One free withdrawal every 30 days. More than that: Skrill/Moneybookers: $15, Western Union:$40-$80, Cashier's Check/Money Order: $40-$80
Account currencies: USD
Supported languages: English, Spanish
Odds format: Moneyline
Secured website technology: Secure level III socket – 128 but encryption security with firewall
WAP betting: Yes
P2P betting: No
Online chat with customer service: Yes
Bonus offers: Cash Bonuses:
Forfeitable:
10% up to $100, 3x rollover on deposits $25-$250
20% up to $200, 4x rollover on deposits $25-$250
30% up to $300, 5x rollover on deposits $25-$250
Non-Forfeitable:
50% up to $500, 10x rollover on deposits $251-$499
70% up to $700, 12x rollover on deposits $251-$499
100% up to $1000, 15x rollover on deposits $500-$1000
Other Promotions: Including but not limited to: Casino: Up to $1 for every $200 played
Sportsbook: Up to 2% weekly volume cashback
Racebook: Up to 13% weekly cashback
Entertainment/novelty bets:
Types of wagers available:
WagerWeb Review
WagerWeb has a nice sportsbook that accepts bets on a wide variety of sports. Of course they take action on NCAA and NFL football, MLB baseball, college and NBA basketball, and NHL hockey.
In addition to these sports they will also take your bets on WNBA games, Arena Football, soccer, NASCAR, golf, tennis, boxing, MMA, and a number of other leagues and circuits.
You can bet on individual games and events, and WagerWeb also offers futures betting.
They have easily understandable betting lines posted, and their board is set up so that you can follow line movements and trends. This is a nice feature. They also post expert articles that can give you some insight as you are doing your handicapping.
Horse Betting
A lot of people are into the "Sport of Kings," especially during the Triple Crown series. Because of the growth of online casinos you don't have to burn any gas going to the track to lay down your bets on the ponies anymore.
WagerWeb offers horse betting, and it's pretty straightforward. You can bet on races at numerous different tracks, and it's all very intuitive and self-explanatory once you enter the horse betting section of the site.
Deposits
WagerWeb offers a number of different ways to deposit your bankroll. They take Visa and American Express credit cards directly assuming your provider will approve the charge.
You can also make a deposit through Western Union, and they will reimburse your fee if you deposit over $250. The maximum Western Union deposit is $800 per day, and the minimum is $25.
Other deposit options include EZ Voucher, Skrill, and MoneyGram.
Bonuses
Most online casinos offer bonuses to sweeten the pot as you are deciding how much to deposit into your account. At the present time WagerWeb is offering bonuses as high as 50% on credit card deposits and 100% on cash deposits.
The exact amount of your bonus will depend on the amount of your deposit. The higher the deposit, the higher the bonus percentage. They also offer a 25% referral bonus, so you can get some change in your pocket if you can convince a friend to join you as a WagerWeb customer.
Payouts
Gambling is fun, but winning is really, really fun. One of the concerns that you would logically have when you are considering betting online would be the matter of getting paid when you win.
WagerWeb claims to be the only casino on the web that offers same-day payouts. This is pretty impressive, and it is certainly nice to get the money that you win right away with no hassles.
Mobile Betting
Smartphones have revolutionized the way that we live our lives. If you sign up with WagerWeb you can place your bets, make deposits, and request payouts using your iPhone or Android.
Customer Service
When you're dealing with an online entity you can sometimes feel a disconnect from the people behind it. Good, reputable online casinos are going to provide reliable and attentive customer service. They're not going to hide behind a cloak of anonymity.
It would appear as though WagerWeb understands the value of quality customer service. They have a live chat function, so you can communicate in real-time with a customer service agent that way.
You can also reach them by phone around-the-clock, 365 days a year, and you can have your questions answered through e-mail if that is your preference.
If you speak English you may be concerned about the fact that WagerWeb is a Costa Rica-based company. This is not an issue because customer service is provided in English or in Spanish.
The Bottom Line
When you combine all of the relevant factors you come away with a clear picture. WagerWeb is a solid if unspectacular online casino.
The site provides you with the ability to wager on just about any sporting event or horse race. You can play casino table games, slots, and video poker. The bonuses are there, customer service is readily available, and you can expect fast payouts.
They've been around for a long time, and that is certainly reassuring. If you are looking for an online casino WagerWeb will probably suit your needs.